Platonic Nanotech is one of the most celebrated manufacturers of Multi Walled Carbon Nanotubes (MWCNT) Products in India. The company is regarded as the one of the best Nanotechnology firms in the country, and it offers its customers with a large number of Multi Walled Carbon Nanotubes, that too at a very reasonable price. Buy Multi Walled Carbon Nanotubes from Platonic Nanotech, and you will know how the company produces High Quality Multi Walled Carbon Nanotubes at a low price. If you wish to stay at the convenience of your home or office and still get a good deal on product you require, Buy Multi Walled Carbon Nanotubes Online to save yourself a lot of time and hassle. We have created a "SHOP" tab on our website which will directly lead you to the page where all our products are listed with their respective prices.
We have categorized these products in various other sub products, so that it becomes easy for our potential customers to navigate through our website while going through our different kind of products. Being one of the leading Metal Oxide Nanoparticles Manufacturers in Indian, we not only cater to our Indian clients, but also have presence globally, as a global supplier of Metal Oxide Nanoparticles Products. Being a global supplier of Multi Walled Carbon Nanotubes, we understand the urgency behind someone's order, and hence, we assure a fast and timely delivery to our customers. If you compare Multi Walled Carbon Nanotubes Price in India, you will always see the difference between our prices and the same quoted by other manufactures. However, low prices of these Multi Walled Carbon Nanotubes do not mean that there is any compromise of quality in any way. We use highly technically advanced next generation methods to manufacture our Multi Walled Carbon Nanotubes.
We are the global supplier and fast delivery at reasonable price provide services in India, Canada, Australia, Italy, Russia, France, Germany, England, Poland, America, Japan, South Korea, Egypt, Iran, Turkey, Spain, Saudi Arabia, Malaysia, Netherlands, Sweden and Singapore.
Jharkhand, Mumbai, Karnataka, Bangalore, Hyderabad, Ahmedabad, Chennai, Kolkata, Delhi, Ranchi, Pune, Nashik, Patna, Gujarat and Bihar.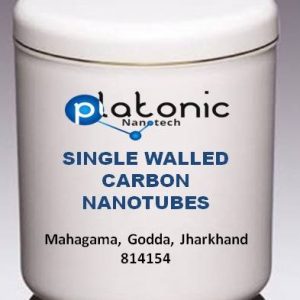 Out of stock
Multi Walled Carbon Nanotubes